As the industry coming to new cloud/edge on-premise IT architecture, we need to consider a new method to build your on-premise data center that is flexible, quick to deploy and scale with your business grows. That's where Prefabricated Micro Data Center can help us.
Imagine that you will build your on-premise hybrid cloud data center with:
Predicted Quality
The factory environment integration greatly reduce the risks of failure from complex integration between multiple systems such as power, cooling, mechanical and communication. We verified all key conditions of quality before shipment.
Speed Deployment
Within one day, you can deploy the IT equipment and power on your business. Pre-manufactured and fully tested means that no-extra on-site engineering required to activate the product.
Parallel Expansion
Buy small then scale to big. These stand-alone scalable solution means you can plan and invest your IT assets step by step while your business grows. Invest only when necessary.
Controlled Security
By this standardized architecture and remote monitoring portal, you can gain control of these critical assets, reduce risks, and improve service level. 3 in 1 access control and video surveillance system give you live visibility of your systems.
Comparing with the traditional data center build method, the micro data center method gives us a lot of benefits, and below table we list the advantages of this type of solution.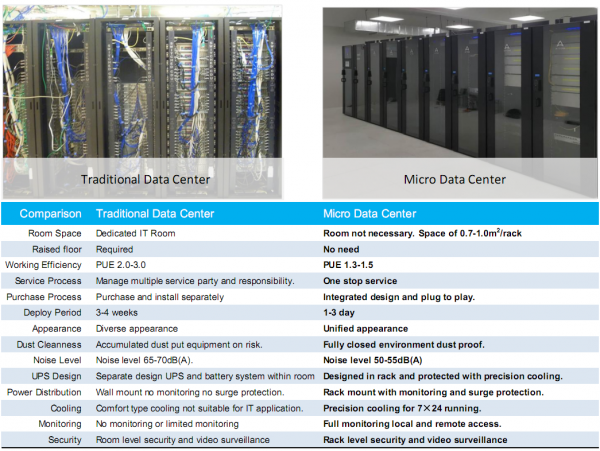 We prepared a whitepaper "Why Micro Data Center is the best choice to build your on-premise hybrid cloud data center Rev1.0" for your fully information, and it can be downloaded here.